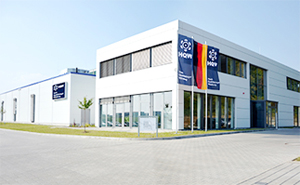 Quality
As a provider in the premium segment and a "made in Germany" manufacturer, we attach a great deal of importance to quality in our production process. The tolerances for dimensional, geometrical and running accuracy of our spindle bearings are checked according to the international ISO 492 standard and the national DIN 620 standard, as well as the American ABEC standard for tolerance classes.
The balls used therefore fulfill the highest tolerance class requirements, at least "Grade 5", and just the same applies to the spindle bearing, which is manufactured by HQW up to the highest tolerance class ABEC9 (P2).
Our site in the city of Kürnach near Würzburg is certified according to ISO standard 9001:2015 for quality and process management. During the production process, we pay a great deal of attention to maintaining the greatest cleanliness in all manufacturing stations. After assembly in class 7 clean rooms, the bearings are subjected to a 100% noise test. As a matter of principle, you as a customer of HQW will always be provided with bearings of the best noise class for your applications. This is how we ensure that you as a customer receive a super precision, long-lasting product.